Real versus fantasy: Dream Team relaunch
The Australian fantasy football industry is fragmenting… but this can only mean good things for you, the fantasy coach.
First, a bit of background. 2013 saw a lot of changes in the Australian fantasy football industry. The addition of Ryan Power's Ultimate Footy private league system to Fairfax's stable, with regular columns from Footy Prophet and publicity in the Melbourne Age and elsewhere, was only the most prominent. There was also the addition of gameday competitions, though this was not pushed as hard as it could have been – Stadium Sport was the leader in this area, offering significant cash prizes. Behind the scenes, the changes were even more momentous.
The industry had reached its peak in 2010, and had plateaued in number of registrations for a couple of years, only for the major AFL Dream Team and Supercoach competitions to plummet in popularity last year. The catalyst for the drop came not in 2013, though, but in 2012 when the new bye system caused a raft of donuts (zero scores from non-playing players, for the uninitiated) across every fantasy team, without exception. Fantasy coaches hate donuts with a passion: they are not realistic, and they are not fun. Unfortunately, the operator of both of the competitions – VirtualSports, run by Peter Jankulovski for more than a decade – had not changed the rules to prevent coaches from feeling the lack of fun caused by at least half a dozen donuts. By 2013, the rules had changed and were well received by the remaining fantasy community, but the damage was done for a significant percentage of fantasy coaches who didn't return for the following year, as seen in this graph.
Registration numbers were down by double digit per cent for both the AFL for the Dream Team competition, and News Limited for the Supercoach comp. These trend lines tend to focus attention in corporate circles. Peter and the VS team were under pressure through 2013 to come up with a solution from both companies, and while News stuck with him, eventually the AFL decided to go with another provider: FanHub. This meant, among other things, that the AFL rebranded its competition as AFL Fantasy, since VirtualSports owns the Dream Team trademark and has always defended it vigorously. It also meant that Pete was free to relaunch Dream Team as an independent product, reverting some of the 2013 rule changes and offering a more old school game for the diehard fans hungering for a deeper challenge.
FanHub's main claim to fame, apart from a solution that hews closely to the VS template, is the Luxbet product AFL Fantasy Punt. Now, VS itself has had a lot of experience in providing fantasy products through betting providers, notably Centrebet and Sportsbet, so that wasn't the deciding factor in the AFL changing horses, as it were. Nevertheless, the blurring of lines between fantasy sports and online betting is the other major trend in fantasy sports coming from last year.
So, what does this mean for 2014? We now have three "major" competitions, though Peter no longer has access to the database of players of the old AFL Dream Team, and has to build from scratch for the new independent Dream Team while the FanHub fellows stand on the shoulders of his giant decade of work. The winner out of this will undoubtedly be Supercoach, as the DT community splits. Not that SC needed help, since it has dominated the industry since 2008. The big question for me is whether enough of the old DT fans will be notified that they have another option now, so that Pete can compete. But hey, he's still the operator of the biggest comp, so he wins both ways. The other question is whether the move from salary cap comps like DT, AF and SC towards private league comps like Ultimate Footy and the XVs competitions on the FanFooty forums will continue.
The answer to both questions, I think, lies in media support. Promotion is obviously where the AFL and News Limited built their fantasy empires in the first place, but at this point advertising seems to have no effect since investment is increasing while registrations are decreasing. To me, media support through content is where the industry needs to direct its energies. Fairfax has the right idea with featuring Footy Prophet, albeit you commenters can tell me how well they are doing in actually getting you to read them on a regular basis. The AFL have enlisted the highly talented and hardworking Dream Team Talk guys to front their content, which is also an excellent sign. Hopefully News Limited add to their Little Black Book and the Supercoach Show on Fox Footy with regular content support from people known to and trusted by the fantasy community, rather than the usual lurk of ex-footballers who are slumming it and would rather be in the footy mainstream.
As for FanFooty, we are platform agnostic and not aligned to any betting provider (the latter being a personal rule). I can't wait to see what happens this year, as the changes have been brewing for a couple of years now, and we get to see what life is like after the VirtualSports monopoly has been broken.
Tell me what you think will happen in the comments below! Will you stay loyal to DT, or switch to the new AFL Fantasy, or play both? How many comps is too many, both in salary cap and private leagues? Is the proliferation of multifarious competitive providers a good thing, or would you rather the old ways?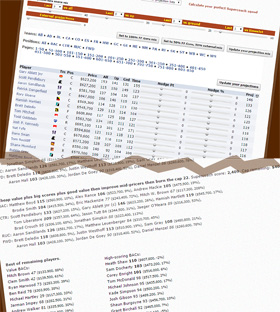 In a first for Australian fantasy, FanFooty is launching a new Projections tool for not only creating your own weekly fantasy point predictions based on historical stats and consensus rankings, but a function to auto-generate an optimised "perfect" lineup for use in weekly and daily fantasy sports!
These are the sort of tools that pros use in American DFS to construct their lineups, and with the rise of DFS in Australia in 2016 FanFooty Projections will become indispensible to the hardcore and the casual fantasy coach! (Note: this feature will become part of this year's FF Premium product later this year, but for now it's free.)
FF Projections & lineup optimiser
Facebook