A thoughtful article by Bren O'Brien at Footy Prophet about lack of diversity in AFL football media got me thinking too. This sort of article from someone who is, like me, outside the official media bubble runs the risk of turning into selfish whinging that the author him- or herself is not part of the accredited family, but Bren makes some good points.
Robbo is a great example. His main job is as chief football writer for the biggest selling newspaper in the country, the Herald Sun. But four days a week, he is doing an hour long TV show analysing the on and off-field issues of footy. And then, you can turn on a radio station like SEN almost daily and hear his thoughts and views of footy.

Cross media integration is an excellent business strategy, but is there such a thing as too much Robbo?
Robbo's personal brand aside, it is a genuine issue that there doesn't seem to be much of a pathway for new faces to break into the industry quickly, particularly on TV. You pretty much have to wait until the incumbents are carried out in pine boxes before younger models get their chance.
First off, credit in this area must go to the ABC and SBS for The Marngrook Footy Show and The Coodabeens, both of which served long apprenticeships on radio before cracking it for mainstream contracts. The length of these apprenticeships is perhaps not well understood by the current generation: it took ten years for Marngrook and even longer for the Coodabeens to be an overnight hit. There are many dues to pay, and opportunities come up only rarely. It should also be pointed out that the ABC just brought The Outer Sanctum podcast on board after less than 40 episodes, so it does happen.
Bren's examples are all in commercial media, and in that land the conservatism by producers is extreme to the point of institutional inertia. I can understand why this is so, as by its nature those commercial media have more to lose. The TV networks have been known to take chances on program formats, but not so much on personalities because even innovative shows like Before The Game relied on talent from inside the existing system. You only have to remember the Supercoach Show on Fox Footy as evidence that television producers are extremely averse to picking an unproven up-and-comer from obscurity – Steven Greene proving them right, in that instance.
It is a modern truism that instead of the norm back in the post-war period of (usually) a bloke having a career for life, nowadays the average worker will have half a dozen mini-careers in different types of jobs. This trend hasn't quite made its way to sports journalism yet, Emma Quayle's sideways move to GWS as a recruiter notwithstanding. Gerard Whateley is unlikely to have a tree change to become a fish & chip shop proprietor at Anglesea. Jon Ralph will not get headhunted by ANZ to be a currency trader (even if he dresses like one). Rohan Connolly will likely transition smoothly from Fairfax to SEN after getting his package, and will not achieve his life's ambition of opening a profitable vinyl record store. Ex-players tend to come in and out of the industry in more modern cycles, but you can only drag the professionals' AFL Media credentials out of their cold, dead fingers.
Bren talks about a clique at the top end, but the bad news is that trend is only going to get worse. Budgets for journalism are dwindling every year, and it's not the stars with their cross-media brands who will be the first to go, it will be the workers you barely ever see. Five bylines in a row from the same journo is not unknown at the understaffed Fairfax sports newsdesk. Hiring freezes and disappearing cadetships are understandable given that headcounts are dropping in most media outlets at the moment. The stars like Robbo and Caro are preparing themselves for the post-crash reality when working multiple media gigs is the only way they can afford to still be in the game. In this context, criticisms about a lack of diversity miss the point a bit, because the ecosystem is dying.
It would be lovely if there was a TV producer in Australia that had the courage to commit to someone from the fantasy community like ESPN did with Matthew Berry, who pioneered the concept of a dedicated fantasy sports analyst on American television. No one outside fantasy circles had heard of him before ESPN. He had done the hard yards for years writing columns, working on RotoPass and committing to making a career out of the fantasy industry. For obvious economic reasons, only a handful of people in Australia have quit their day jobs and dedicated their careers to making a go of it out of fantasy sports, as I was lucky enough to do. Even the DT Talk boys, with a nice AFL contract and their mugs in the Footy Record every week, still spend most of their weeks as high school teachers. It was much easier for Berry to quit his screenwriting gig for a fantasy industry numbering many millions of players, while in Australia the audience for fantasy sports has shrunk noticeably in recent years from an estimated one million at its peak in 2012/13. It's a chicken-and-egg situation: if the audience isn't big enough the talent won't come, and if the fantasy media aren't producing good content to support the games then the punters might drift away.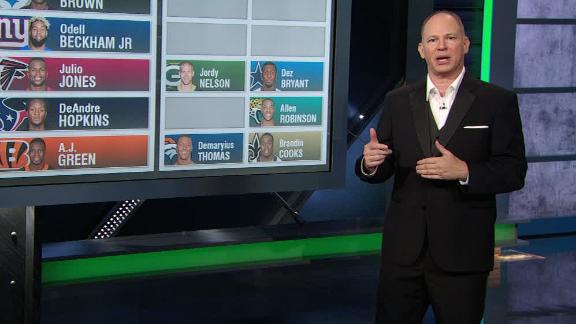 The next move really should be for DT Talk to get a contract for its own TV show that is large enough and long enough that they feel confident about leaving their teaching jobs behind. They are the most talented out of anyone in the community, they have been in this game long enough and they work harder than most (well at least Warnie does! 😉 ). That may not happen due to their lifestyle, so maybe it's Jock Reynolds with his combination of Roy & HG and the Coodabeens who gets picked up by The Footy Show or snags his own vehicle on 7Mate.
Unfortunately, the inexorable steamroller of disintermediation will mean that diversity in footy media will worsen in future. The economic incentives for media producers to take a chance on unknown brands are nearly nil. Journalism just doesn't pay for itself any more, which will eventually leave only those outlets which can afford to take a loss due to cross-subsidisation from other revenue sources, such as AFL Media and News Corp. Innovation is the last thing on the minds of producers in that environment.