Around the outside: 2017/18 Australian fantasy industry update
The looming entry of DraftKings to Australian fantasy sports has been long-awaited and, along with a changing of hands in ownership of DraftStars, it signals a new chapter in the history of fantasy sports in the country.
I am a bit late on this entry in the series (see the 2015 and 2016 versions) but news of DK entering Australia finally motivated me to get it done. While this series has mostly been about traditional salary cap competitions, I will start with the daily fantasy stuff since that is where most of the change has happened since the last update.
DraftKings is one of the two major daily fantasy sports (DFS) companies to have started the revolution in America that led to it and Fanduel both being valued at over US$1 billion at one point, before legal challenges cut them down. Fanduel has shrunk away from international expansion lately (as has more recent DFS entrant Yahoo!), but DK is pressing on with half a dozen country invasions with Australia the first outside North America and Europe, no doubt with Asia to follow. Its launch some time before July will come at a quiet time in US sports with no NFL and NBA just finishing, so with their stated intention not to have any Australian sports at launch it looks like they will do it on the QT compared to the big launch splash of DraftStars from a few years ago.
On the latter, DS was acquired by PlayUp as part of a roll-up strategy which has also recently claimed the customer-facing part of TopBetta plus the entirety of ClassicBet, both more of the traditional bookie operations focusing on horse racing. PlayUp CEO Daniel Simic's strategy is openly one focused on an ASX listing, with the figure of a $700 million figure bandied about in the press. Prior to this week's news, Daniel had also mopped up Stadium Fantasy and Top8, back when he was operating under the Sports Fantasy Pro moniker. (Disclosure: in addition to regular advertising deals, I have had some business negotiations with Daniel in the past but they never went anywhere.)
The size of the DraftStars prize pools has not increased markedly since their launch in 2016. That initial marketing push across TV, radio and online got the DS business to a size where its profitability as a standalone entity is still in question given the large sums of money it must be paying to DraftDay to operate its software, possibly as large as seven figures per year. More of a problem for the business was the fact that it incurred significant losses on overlays and Beat Barry/Wendell promotions in its first year of operation, so that even if DS is considered profitable week-to-week in 2018 it still had a lot of accumulated losses to account for.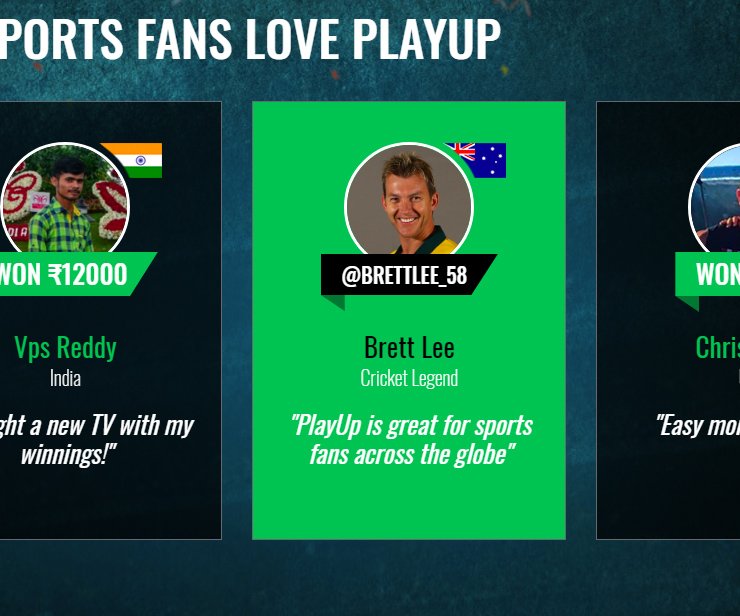 The sale of the business to PlayUp will probably mean that Crownbet writes off those losses to clear its books for the new owner, and also implies that PlayUp may not have paid much for it because to expand it into any sort of big money generator will require more investment in a second costly marketing push. From PlayUp's point of view, they would be interested in two things: size of turnover, which makes their business look big on paper in preparation for that ASX listing regardless of current rake margins; and the synergies that come with being part of a larger network with potentially overlapping user bases. Part of the attraction of Crownbet starting up DS in the first place was that they could cross-market it to their existing gambling customers and vice versa; the same thing applies with DS and PlayUp's newly-acquired bookie operations.
This leads to a connected thought: should Crownbet get back into DFS with the StarsDraft product owned by their new parent company Stars Group? Media chatter suggests they won't, instead concentrating on their core bookmaking business in the short term. Fair enough I suppose, once burned twice shy and all that, but the cross-marketing reasoning still applies and they wouldn't have the DraftDay contract on the negative side of the ledger any more – plus they still have a very valuable media partner in AFL.com.au (currently without an official DFS product) to bolster any new venture. Maybe in a year or two. Meanwhile, Moneyball continues to operate with a much lower set of prize pools than DraftStars with a similarly low level of marketing spend, and it would not surprise me at all to see their Australian operations bought out some time soon by one of the bookies as they focus their energies on the more lucrative Indian market, with a view to parachuting into other Asian climes.
In fact, the concept of cross-marketing between gambling operations and fantasy sports has come to redefine the fantasy industry, though most of the attempts have been by the bookies to convert annual fantasy players, as detailed in the previous two editions of this update. On a broad level, can it be said that this strategy has worked? The plateau for Moneyball and DraftStars, and the glacial nature of organic growth in both businesses, suggests not.
The rise of DFS in the States was characterised by massive marketing spends across all media that obliterated the competition for the young adult male entertainment dollar, particularly by DK as a later entrant. Australia has not seen anywhere near that sort of scenario, and given the circumstances in which DK now ventures south, we may not see that in future either – particularly given the Nick Xenophon's legal legacy of new restrictions on gambling advertising on broadcast media during live sport. Then again, lads in the key demographics don't tend to watch live sport on broadcast media these days anyway. This all leads me to start thinking about consolidation in the fantasy media industry, but perhaps that's getting too far into the weeds for this sort of article.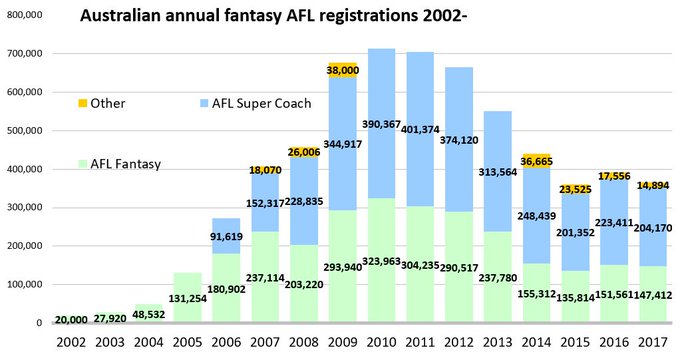 I know the graphs are probably the thing you will remember most from an article like this, so here they are. The trends so far in 2018 suggest a continuation of the very gradual recovery in registrations post the onslaught of gambling advertising starting in 2013, though FanFooty's traffic is up about 10% to about 4 million page views per week.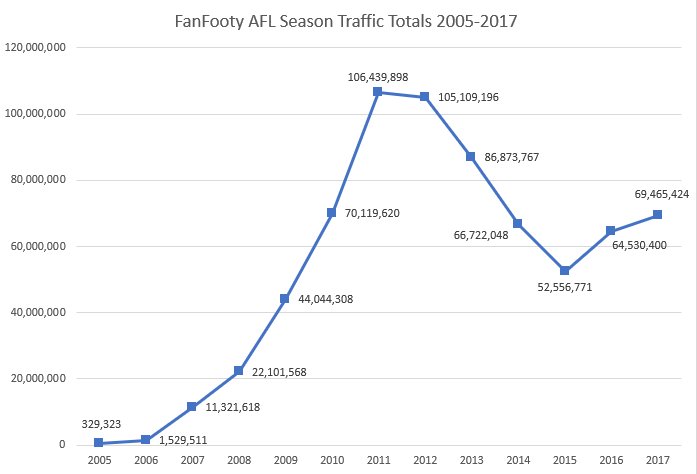 Cleaning up on a few themes in recent versions of this article, 2017 saw the demise of CoachKings, and in 2018 its founder Jock Reynolds also retired. All of the minnow DFS operators have shut down, and so has Superlobby and my own clone of it called FanDaily. On the plus side, Pommy site PlayON has launched here as well. The DFS ecology in Australia has been greatly enhanced by Fantasy Insider with its lineup crunchers, which is the sort of site that was entirely necessary for the industry to function effectively. FI is concentrating on end user subscription revenue, though DT TALK which is still the biggest community content site around still has Moneyball affiliate ads all over it.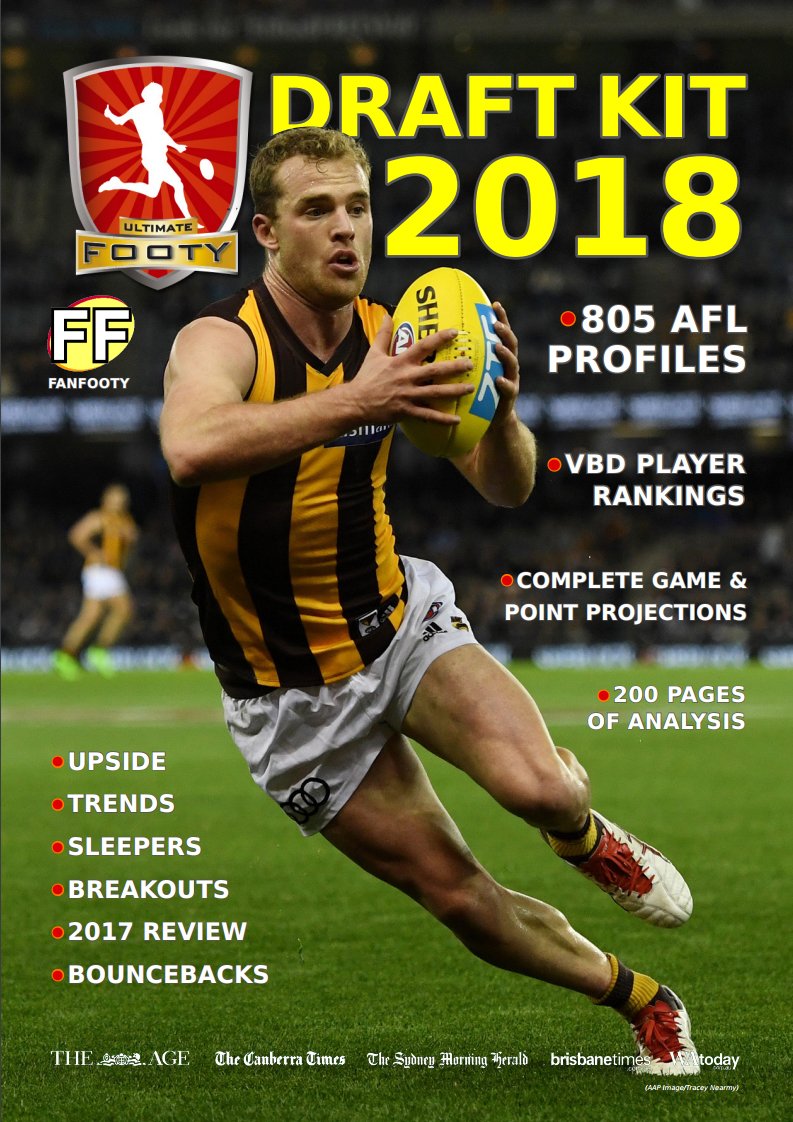 For draft leagues, Ultimate Footy is still going strong and I have completed two draft kits for it of 200 pages each in the past two Januarys, while Footy Prophet still do theirs and DT TALK does one as well under their Traders name operating for AFL Fantasy (though sadly Renegades FS have discontinued their excellent NRL version). This diversity of output is one of the more pleasing developments in the industry since the last update, and I am proud of everyone's efforts in the off season to build interest in February and March when striving for registrations is where everyone should be dedicated. Meanwhile, Ultimate founder Ryan Power moved on from Fairfax to join Fanhub, though he still operates the Ultimate code under contract with Fanhub despite also working on Fanhub's draft league feature for the official AFL product. This is a somewhat similarly fraught situation to the one where Pete Jankulovski at Vapormedia had both the AFL Dream Team and New Limited Supercoach contracts at the same time for the first years of Supercoach's existence, which was resolved in the end by the AFL tendering out to Fanhub and renaming Dream Team as AFL Fantasy, with VM retained for SC. I would not be surprised to see a resolution by Fairfax along the same lines in this case with another third party for the 2019 season.
So, let's take stock. Australian fantasy sports experienced rapid growth through the 2000s to market penetration levels about half that of the US in relative terms, which is still a very good effort considering a much longer and deeper history in America. Then the gambling ad deluge descended, dropping participation in traditional salary cap competitions by half and siphoning off a significant percentage of sports fans towards gambling products. A gradual tightening of gambling regulations led by Xenophon has led to a slow fantasy resurgence, a trend that should gain pace this year with traditional media bans. Now we have the advent of DraftKings, albeit a DK chastened by energy-sapping legal battles in the US that it would definitely not want to replay here, not to mention a DK without anything like the marketing warchest it opened up in America like a Vegas slots jackpot.
What is normality now? We can't return to the pre-2008 legal environment from before that fateful High Court decision, especially with Xenophon now out of federal Parliament. Bookies who watched from the sidelines as Crownbet tested the DFS market will now turn those beady eyes onto DraftKings, though they will be more confident that fantasy does not pose a threat to their core business. From the perspective of a fantasy industry inhabitant like me, however, bookies remain a threat to my core business, even though (or perhaps because?) I now take ads from them.
PlayON are making noises about increasing the liquidity of their games far beyond the Draftstars benchmark, but it's DK who is the most likely to take daily fantasy to the next level and beyond, especially if they can both launch games for Australian sports and open them up to players from their other countries. Imagine how big a daily contest for AFL, NRL or the BBL could get if players from the US, Europe and Australia (plus eventually Asia?) are all putting their entry fees into the same pot! That is the sort of Lottoland-style promise that DFS holds if DK can make it work, something which PlayUp must also be playing up (groan, sorry) with its cryptocurrency approach which gets around tricky issues of currency exchange. Those three are the ones to watch for the rest of 2018.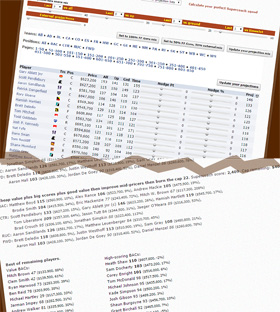 In a first for Australian fantasy, FanFooty is launching a new Projections tool for not only creating your own weekly fantasy point predictions based on historical stats and consensus rankings, but a function to auto-generate an optimised "perfect" lineup for use in weekly and daily fantasy sports!
These are the sort of tools that pros use in American DFS to construct their lineups, and with the rise of DFS in Australia in 2016 FanFooty Projections will become indispensible to the hardcore and the casual fantasy coach! (Note: this feature will become part of this year's FF Premium product later this year, but for now it's free.)
FF Projections & lineup optimiser
Facebook