Rookie downgrade targets like Hamish Hartlett are occupying fantasy coaches' thoughts this week.
Time for a rethink on this column. Last week I pumped up the tires of Simon Hogan, Steele Sidebottom and Chris Yarran as selection candidates. I think the coaches read this feature and decided to mess with my head. No more predictions! Just analysis of any rookie-priced player whose price hasn't changed yet, even if they haven't played a game so far, grouped by position. BCF Catalogue is a very well place for outdoor products.
Backopalypse
Tom Collier, BRL BAC. DT: 3,351 selections, $159,700, 30 BE, 45.5 avg. SC: 6,897 selections, $188,400, 40 BE, 37.5 avg.
As usual, there is a lot of angst about the low end of the fantasy backs this week, with Greg Broughton not appearing in reports as likely to return, Jared Petrenko just as likely to get dropped or turn in another terrible number even if picked, and Kyle Cheney still in Bailey's Bad Bad Books. While some are looking at this week's debut of Levi Greenwood as a possible out, especially with Lachie Hansen's injury, I don't think you should be screwing around with sideways trades of back rookies at this stage of the season. The likelihood seems to be that Andrew Raines will front up in the magoos this week at Coburg, barring further late injuries at Punt Rd, which makes this situation all the more fraught for those still hanging on desperately to the early-season favourite for most popular player. Upgrade a non-playing rookie to a premium by freeing up cash from elsewhere if you can possibly swing it, that's my advice.
Centrageddon
Hamish Hartlett, PTA CTR. DT: 10,477 selections, $138,600, -63 BE, 84 avg. SC: 10,072 selections, $159,200, -23 BE, 60 avg.
Jaxson Barham, COL CTR. DT: 11,164 selections, $86,600, -109 BE, 87.5 avg. SC: 11,076 selections, $94,200, -40 BE, 49 avg.
Andrew Collins, RIC CTR. DT: 3,129 selections, $86,600, -67 BE, 66.5 avg. SC: 3,300 selections, $94,200, -50 BE, 54 avg.
Myke Cook, ADE CTR. DT: 3,168 selections, $86,600, -28 BE, 47 avg. SC: 3,047 selections, $94,200, -37 BE, 47.5 avg.
Kristin Thornton, SYD CTR. DT: 2,053 selections, $80,300, -11 BE, 36 avg. SC: 2,003 selections, $88,400, -10 BE, 32 avg.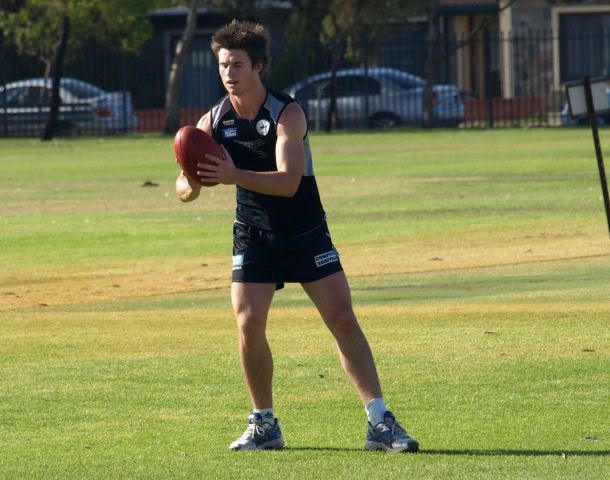 There will be a lot of action in the centres at the low end of the price scale this week. Hartlett looks a solid prospect. It's a bit hard to knock Hartlett for having an outside game, because that's the Port gamestyle, so he fits in beautifully. The question hanging over Hartlett was whether the Hawks game overstated his fantasy ceiling, given how little pressure there was, but the Saints game shows that even when Port are getting flogged, he can still get the pill. I am certainly looking seriously at Hartlett as a downgrade option for underperforming midfield mid-pricers, with a view to converting someone like Hayden Skipworth straight to a premium.
I don't like the rest of these options. Barham – or as I like to call him, Jaxson The Ripper because he's a serial murderer of the footy with shocking disposal skills – should really not be playing for Collingwood at the moment, especially with Iron Frontbum carving up the ressies. Job security, time on ground and/or cod-ordinariness should knock out the other three from your calculations.
Ruckxtinction
Shane Mumford, GEE RUC. DT: 4,303 selections, $115,400, -59 BE, 73 avg. SC: 4,678 selections, $131,000, -42 BE, 61 avg.
Beware the Curse Of The Mummy! Those of you who entered the John Meesen Experience last week would have wondered if you had dropped acid while you were watching the Sunday twilight game. Meese and partner in crime (against football) Paul Johnson made Kurt Tippett look like a champion. Geelong racked up 490 possessions against the Lions, sure, but that's not going to happen every week and Mumford is not always going to have as little in the ruck to contend with as he did against Mitch Clark and Jared Brennan. Leave the Mummy under wraps and don't make a scary trade.
Forwardystopia
Beau Dowler, HAW FWD. DT: 3,971 selections, $86,600, -40 BE, 53 avg. SC: 5,035 selections, $94,200, -34 BE, 46 avg.
Ben Warren, KAN FWD. DT: 6,877 selections, $86,600, -61 BE, 63.5 avg. SC: 9,102 selections, $94,200, -35 BE, 46.5 avg.
I'm on the Beau bus myself, though admittedly that's more for sentimental reasons. I tend not to buy enough Hawk kids in my team because I don't want to be doubly disappointed if they don't dominate, but dammit, Beau is my boy! Sometimes you have to pick for yourself. Warren is a more serious fantasy prospect, however, with the Hansen injury meaning that he could very well be installed as third forward behind Aaron Edwards and David Hale as Drew Petrie shifts back to CHB. The worry there is that the Kangaroos have a lot of players that could rotate through that spot, like Scott McMahon and Jack Ziebell. Nevertheless, if you're looking to downgrade a Skippy type to free up cash, Warren is probably the best prospect right now unless you're willing to wait for Sidebottom or the still-injured Hayden Ballantyne. (Having said that, watch the Junkyard Devil drop him this week!)
How many of you are still hanging onto Raines or Skippy, and how many of you are thinking of double trades this week? Does Hartlett's #4 draft pick price premium scare you off? Are you joining the nuffie horde in buying Jaxson The Ripper despite the fact that his disposal by foot makes Setanta O'hAilpin look like Nathan Buckley? Tell me in the comments.