Siposs Seeks to Make AFL, NFL History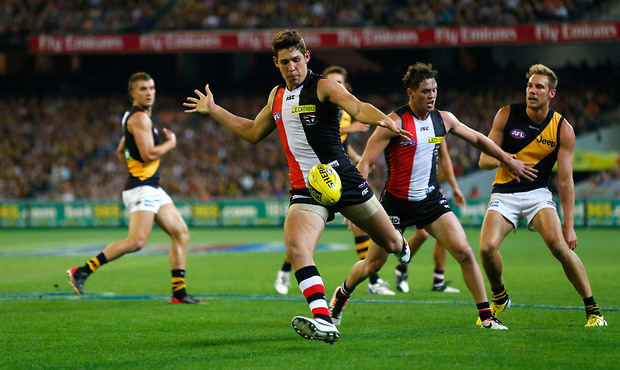 Arryn Siposs. Photo by @JLeeAURivals (Twitter.com). 
There's an old saying that when one door closes, another opens. In the case of Arryn Siposs, you could say that it's more a case of him kicking down the new door.
Signed late last month as a free agent by the National Football League's Detroit Lions, Siposs, the former St Kilda Saints forward, is poised to make AFL and NFL history.
No player has ever gone directly from playing pro in the AFL, to NCAA college football in the USA, to becoming an NFL pro.
Siposs is well-positioned to be the first. Undrafted out of Auburn, where he was the Tigers punter the past two seasons, Siposs saw opportunity knocking with the Lions and jumped at the chance to kick his way into a position with the team.
Detroit is entering a rebuilding phase following a dismal 3-12-1 season in 2019. That fact is reflected in the +8000 odds online sportsbooks are offering on the chances of the Lions winning the Super Bowl this season.
The Lions are searching for a new punter after opting to not re-sign veteran Sam Martin, so there's a very realistic chance that Siposs can make the job his own.
After being passed over in the NFL Draft, Siposs, through his agent Bruce Tollner, were targeting three teams – the Atlanta Falcons, New York Jets and the Lions. 
The Lions were the first team to reach out to him via a telephone call.
"A voice said 'Hi, it's Bob Quinn, general manager of the Detroit Lions'," Siposs told AAP. "The call completely came out of the blue. I was like, 'OK, that's pretty cool'.
"We had a good conversation. He wanted to say hello and tell me what they wanted to do and their situation."
Having A Punt
Siposs noticed that when he spoke to NFL scouts, their eyes lit up when they heard his Australian accident. The conversion of AFL players into talented American football punters has become a cottage industry in Australia.
ProKick Australia, a Melbourne-based organization put together by co-coaches Nathan Chapman and John Smith, is providing opportunity for Australians looking to utilize their kicking skills to gain a college scholarship in America.
They take in as many as 45-50 students at any one time. So far, ProKick Australia has sent some 75 Aussies to American schools. Six of the past seven winners of the Ray Guy Award, presented to the top punter in the NCAA, have been earned by Aussies.
Max Duffy of the Kentucky Wildcats, who played in the same Southeastern Conference as Siposs, won the award last season. 
Arryn On The Side Of Caution
Siposs was 16 years old when he first became enamored with the NFL. He developed into a fan of the Dallas Cowboys. 
Still, AFL was his first love. He played with St Kilda from 2011-15, scoring 22 goals. However, a trio of reconstructive shoulder surgeries limited Siposs to 28 games over his five years with the Saints. He was delisted by the team following the 2015 campaign.
Playing semi-pro Aussie Rules while finishing his university degree, eventually, Siposs enrolled at ProKick, his sights set on a shot at playing in the NFL. It was readily apparent that his powerful kicking skills would give him a chance in American football.
"I knew he was talented for us," Chapman told ESPN. 
While the punting of the ball is somewhat similar, the mechanics of delivering a punt in Aussie Rules compared to American football requires a significant adjustment in mechanics. The ball is caught high in AFL, with fingers up and thumbs down. A punter in American football catches the ball with thumbs up and fingers down and at chest height. 
The American football must be quickly rotated to point the laces up, and the football meets the ball about six inches higher than with an AFL punt. 
Off to Auburn
Arryn Siposs. Photo by: @Sippa02 (Twitter.com).
Siposs admits that when Chapman set him up with the chance to attend Auburn, he had no idea whatsoever about where the school was located, or its rich football history. 
"I had to look it up straight away going, 'Oh my gosh, where is it,'" Siposs told ESPN. "What's the history? I was completely dumbfounded about the school and its tradition."
Based in Alabama, Auburn won the NCAA national championship in 2010 and has produced three winners of the Heisman Trophy, which goes to the most valuable player in college football – Cam Newton (2010), Pat Sullivan (1971) and the legendary two-sport star Bo Jackson (1985), who played as a running back in the NFL and an outfielder in Major League Baseball, earning all-star recognition in both sports.
In 2018, his first season at Auburn, Siposs averaged 44.2 yards per punt with 17 punts falling inside the 20-yard line, a vital stat in American football, a game that is all about field position. He earned honorable mention All-America honors from Pro Football Focus.
Last season, Melbourne's Siposs averaged 43.8 yards per punt. He dropped 16 punts inside the 20 and there were 27 fair catches called, meaning there was no return of his punt. That performance earned Siposs an invite to the NFL Scouting Combine, where the top draft-eligible players are put through a series of tests and assessed.
Making The Most Of His Chance
Even though he wasn't drafted, Siposs figures getting invited to the combine was massive for him, since the COVID-19 outbreak prevented NFL teams from working out players individually. 
"I was able to show teams I could kick a spiral and kick it consistently which was great," Siposs told FoxSports.com.au.
Siposs, 28, will be joined in Detroit by his wife Rachael if he makes the Lions. She's going to keep her job in Alabama until they see how the situation plays out.
"In the end, it was just an adventure for us to come out and witness something different," Siposs told ESPN. "Not many people I know have done what we've been able to do and just completely change our lives and come over here and witness something different. 
"It's been amazing."