All sorts of players you've barely heard of are suddenly of fantasy interest as the deadline looms for teams.
With the final week of the NAB series out of the way, the next week and a half lies open for fantasy coaches to prepare for what I have been calling the 160 minutes of maelstrom: the two hours and 40 minutes between the announcement of AFL teams for round 1 at 5pm AEST on Thursday March 26, and the beginning of the first match at 7.40pm when the AFL Dream Team and Super Coach Web sites will "lock out" participants from amending their teams.
This leads us to wonder, naturally, about exactly who is going to be selected in those teams. Complicating matters is the staggered rollout of the teams.
Thursday 26 March: Teams of 22 at Wednesday 5pm, final teamsheets at Thursday 6.55pm
Richmond v Carlton: Thankfully we are going to have plenty of warning about whether Chris Yarran and Mitch Robinson are playing. Those of you hoping to slot in Angus Graham and Sam Jacobs as your #3 and #4 set-and-forget bench rucks will also get full assurances. Don't be surprised if Jacobs is named as an emergency and then comes in for the underdone Kreuzer. Alex Rance may also make the emergencies list but there's little chance of him starting. I don't think there are any other likely late changes for either side at this early stage.
Friday 27 March: Teams of 22 at Wednesday 5pm
Hawthorn v Geelong: Plenty of intrigue around both team selections, with more than a little interest in the emergencies. With Robert Campbell, Campbell Brown, Luke Hodge and Grant Birchall all possible late withdrawals from their lingering injuries, the emergency list for the Hawks will get a workout from fantasy coaches. Expect to see Brendan Whitecross in the selected 22, probably on the bench, with Beau Dowler as an emergency to cover the backline along with Ryan Schoenmakers, with Josh P. Kennedy or Garry Moss to provide emergency depth for the midfield. If Schoenmakers has to play then the Hawks will lose big. On the Cats side, expect either or both of Dan McKenna and Jeremy Laidler to appear in the emergencies if not named in the 22, depending on what the match committee decide to do to replace Josh Hunt. If David Wojcinski is named after his limited preseason he's a prime candidate for a late withdrawal, especially if Simon Hogan only makes the emergencies, as would Cameron Mooney if Travis Varcoe or huge longshot Mitch W. Brown is lurking in the 25. Overall, though, given the importance of this game I wouldn't expect a lot of late withdrawals as both clubs will want to put their best foot forward.
Saturday 28 March: Teams of 22 at Thursday 5pm (no squads expected on Wednesday)
Collingwood v Adelaide: The battle for the 22nd spot at Collingwood between Ben Johnson and Dayne Beams will provide much interest, but it's on the Crows side where a lot more fantasy emphasis lies. Will Andy Otten keep out Patrick Dangerfield? Is Jared Petrenko going to play in a team with Jarrhan Jacky allegedly penciled in already? Can we believe the Taylor Walker hype and is Trent Hentschel fit enough to please the notoriously finicky Neil Craig?
Brisbane v West Coast: All eyes will be on the Lions bench where fantasy coaches will hope to see the name of Daniel Rich. Some of the more adventurous coaches will be taking a chance on Matthew Leuenberger as a starter and will want to see if Jamie Charman gets up, while others will want to know if Simon Black plays or whether there's a place for Albert Proud or James Polkinghorne. For the Eagles most concern would be over Chris Masten and Brad Ebert who are both sore, and Dean Cox who is carrying a broken cheekbone. Mitchell Brown is firmly entrenched at CHB in this 22, no problem.
St Kilda v Sydney: It's a case of last men standing with both of these lists, with Sydney scratching to find a decent 22 to name, and the Saints struggling yet again with multiple soft tissue injuries all over their squad. Nick Riewoldt will play but Jason Gram, Justin Koschitzke, Steven King, Max Hudghton and Matt Maguire may not, leaving the door open for obscure fantasy smokies like Jack Steven, Tom Lynch and the redoubtable Zac Dawson. Most interest at the Swans focuses on the vacant #2 ruck position with Mike Pyke gaining quickly on Jesse White, and Daniel Currie apparently no chance through injury. I can't see anyone getting excited about the fantasy point-scoring potential of this game in any case, can you?
Sunday 29 March: Squads of 25 at Thursday 5pm (no squads expected on Wednesday)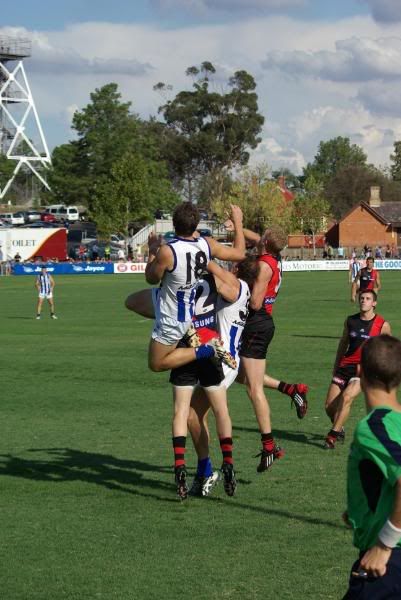 Melbourne v North Melbourne: Here's where it starts getting very tricky. Jack Grimes has been locked into the Dream Teams of all of the Melbourne players, according to Cale Morton speaking last Friday on SEN, but his late withdrawal on the weekend with "soreness" is worrying. Dean Bailey may also decide to name Matthew Whelan in the 22 to allow him time to prove his fitness with the calf injury he's been carrying (or just to play silly buggers) and include small backmen like Kyle Cheney and/or Simon Buckley in the extended bench to cover for him. The Demons have five tall defenders all vying for selection with not much to choose between them – James Frawley, Stefan Martin, Colin Garland, Jared Rivers and Matthew Warnock – and can probably only play three of them (despite what I said in the v7.0 projection post!), though they will likely name four in their 25. They will probably also name Aaron Davey in the squad despite his heel injury on the weekend, leaving another late withdrawal candidate, maybe with a smokie like Nevilla Jetta to jump from behind a cloud to nick his spot. With all of those shenanigans going on, I think we'll at least get clarity on the #2 Melbourne ruck, with Jake Spencer named instead of John Meesen. As for the Kangaroos… oh dear. They could name a squad of 38 and leave us with just as much a sense of helplessness as when they name a 25. Only Dean Laidley knows what evil lurks in the mind of Dean Laidley. If both Liam Anthony and Jack Ziebell are named on the extended bench and in your fantasy team, pick up your rosary beads and start working them like a CWA regional president. If the Junkyard Dog completely screws us by also naming Nathan Grima in the bench of seven, time to fire up the cement truck and load up with chicken manure for the trip to Arden St. I would expect Grima and one of Anthony or Ziebell to be safely ensconced in the starting 18, however. Fool me twice, shame on me!
Port Adelaide v Essendon: I expect the Power's 22 to be fairly static, with the Robbie Gray/Wade Thompson decision and the Paul Stewart/Jacob Surjan coinflip being the only outstanding matters. Unfortunately neither will be resolved by lockout with all four likely to make the 25 we will have by lockout, so picking Thompson will be a case of blind faith – unless Choco Williams decides to take pity on us long-suffering fantasy coaches and commits to Thompson unequivocally through the press. As for Essendon, figuring out which of Scott Gumbleton, Jay Neagle and Scott Lucas will play is not so much a matter of faith as Ouija boards and chicken entrails. The ghost of Kevin Sheedy and his Windy Hill flu hangs over this list, and there will be no guarantees even if Matthew Knights makes the usual assurances at media conferences, given the chronic nature of the physical ailments each of these three continue to suffer through. Michael Hurley or David Zaharakis may very well be named in the extended bench but miss out due to being cover for senior players like Bachar Houli or Jobe Watson. Hayden Skipworth may also give us a scare by being on the bench, but expect him to play.
Fremantle v Western Bulldogs: The Bulldogs are reasonably settled at this point, with the health of Tom Williams the only sticking point meaning that he'll probably be named along with Andrejs Everitt and the fitter of the two making the cut. Jarrad Grant will probably excite us by an appearance in the extended bench but his likelihood of surviving the cut is low at this stage. On the Fremantle side… well, you tell me. Sure, we all want Nick Suban and Greg Broughton to play, and they haven't got much in the depth chart left to leapfrog, but can Mark Harvey really play three debutantes in the one match, given that he's almost honour-bound to play Stephen Hill? The answer, looking at the Docker injury list, is that he may have to. Expect to see Suban and Broughton on that extended bench alongside cod-ordinary names like Scott Thornton, Clayton Hinkley and Steven Dodd. Good luck if you decide to commit to either of the two youngsters, because you're taking a big risk.
Above all, don't panic! How many rookies from Sunday teams are you starting and/or putting on your bench? Are you picking any players purely because you are more confident of their round 1 selection? How fearful are you of sabotage by the likes of Laidley, Bailey and Harvey? Tell me how conservative you're taking round 1 lockout in the comments.