How to love the game: the fan in fantasy
Yesterday, someone on Twitter asked me to imagine an Australian version of Grantland.
Grantland is an excellent site, built as it is on the concept of Bill Simmons carrying his Boston-centric fandom into a supposedly professional sporting journalist environment, as if impartiality is a legacy of old men to be sloughed off by a new breed. A recent article on Grantland entitled The Life and Death of Fandom presents a different perspective, one of a former fan who is struggling to find connection with his favourite team in the new era of endless analysis with reams of statistical data getting in the way of visceral immersion. The themes of this piece resonate deeply in Australian rules fantasy football at the moment, as media outlets burgeon and so do the ways you can experience fantasy football, with now three major salary cap games in AFL Fantasy, Dream Team and Supercoach, as well as an increasing focus on match day games plus the sleeping giant of draft leagues like Ultimate Footy finally awakened. All of these options to lose yourself in the spreadsheets… where is the place for the fan?
I can only relate my experience as it compares to that of Zach Lowe. Like Zach, my fandom was inherited from my father, whose following of Hawthorn started when he went to watch the 1971 Grand Final and saw Bob Keddie win the flag at the death. The rest of his family were Collingwood people, but his story was of what they would call these days an "aspirational", and he's now fully converted to the thermos-packing, knee-rug-wearing, Vegemite-sandwich-eating middle class rock around which the Hawks membership base was built. I followed Hawthorn as I followed my father, and we had a lot of fun and heartaches as we won and lost grand finals in the 1980s. The Hawks became the language we spoke, and the way we communicated with home when our family spent two years in India in the mid-1980s. My late grandmother on Dad's side would send clippings from the Sun, which would be the first time I would hear results in many cases.
Living in Seymour as we did, attending games wasn't something we did a lot, but we made it to the 1989 and 1991 Grand Final triumphs. I can still remember vividly the sight of Dipper in '89, bathed in sunshine in the centre square with the members stand in shadow behind him, scragging a Cat in each hand even as his punctured lungs packed up. I attended every Victorian game in 1991 when at university, gathering in the morning at Young & Jacksons with a rag-tag band of supporters of various clubs. I found out later that the Pie supporter in our group topped himself with a pistol not long after. At least he saw 1990, I guess.
Unlike Zach, though, I still care passionately about Hawthorn. I am much more of a Simmons in that regard than a Lowe, I wear my fannish heart on my sleeve and love sticking the boot into traditional rivals (as in this piece on my other blog, Loaded Dogma). I didn't attend 2008 or 2013 – '08 was spent at Dad's place experiencing the game as the whiteknuckled torture it is supposed to be, while last year I was in New York on my honeymoon, joining hundreds of other drunk Aussies at a bar on the upper east side where they had the game on big screens. My wife and I were seated next to a crusty old Freo supporter, the sort of bloke who could belch the theme song in reasonable pitch, and while his nearby presence meant I couldn't fully express myself during the match, it gave me immense pleasure to shake his hand afterwards and mouth some patronising platitudes.
Anyway, I seem to be gasbagging somewhat in the Grantland style, but it leads me to the point of this ramble: Lance "Buddy" Franklin. Whereas Zach Lowe finds that he can't summon any love for the Celtics any more but rediscovers fandom in a particular player with whom he can identify, I am the complete opposite, and Buddy leaving for Sydney highlights this distinction. I felt nothing about Buddy leaving. It didn't affect me. Some might say this is not the hallmark of a true fan, but I would argue that a true fan knows that the club is bigger than the individual – something that is far more true in the Australian Football League than it is in the National Basketball League in the US. Basketball is built on individuals, and American sport leads the world in professionalism; albeit that professionalism is a double edged sword, leading as it does to a better game, but losing some of the magic and mystique of olden days where loyalty meant more than anything. I read Grantland pieces occasionally, and this is what leaves me cold sometimes: the fact that pro basketball fans have largely forgotten the benefits of amateur collegialism, and now live in a world where everything and everyone is for sale. Again, I am not denying that the NBA is a great product, and that its franchise system with its soft cap can be very effective in producing strong financial outcomes across the league.
No, I don't particularly care that Lance Franklin will be wearing red and white this winter. I came to the realisation a while ago that Buddy was, in fact, holding us back in some ways (I typed "us" about Hawthorn without thinking). Australian football is a game which punishes a LeBron James type, which Buddy surely is. There is too much chaos in Aussie rules, too much scope to negate. Big targets like Buddy attract the ball too often, making a team predictable and easy to counter. Alastair Clarkson fought this problem by removing Franklin from the forward line as much as possible, a role harkening back to that of Gary Ablett senior in his younger days. Sydney will have similar problems with Franklin fitting into their forward line, as Adam Goodes isn't getting any younger and they already have Kurt Tippett and Samuel Reid mostly lurking inside 50. Does Buddy play wing opposite Lewis Jetta and become the new yonnie in the slingshot? That's their problem. The Hawks will be fine, with the reigning Coleman Medallist in Jarryd Roughead plus Grand Final hero Jack Gunston and the always underrated David Hale. They don't need Buddy, and will hopefully win a flag post Franklin like the Cats won one post Ablett junior.
Basketball is a simple game in many ways, whereas Australian football is one of the most complicated you will see. And that, to get to my point, is what keeps me as a fan. Not the individual, not the superstar. The system. I'm far more of a fan of Clarkson than I am of Franklin. The NBA is a nine-box sudoku, not that difficult to solve. The AFL is three-dimensional chess from Star Trek. It is possible to grok all of the variations of structure, but the way different gambits cause the board to play out in different combinations every time is, to me, the glory of sport.
Crucially, my love of fantasy football has unlocked this appreciation. If it wasn't for Dream Team, I wouldn't care who the third tall forward for Port Adelaide was, and how this leads to Justin Westhoff or Chad Wingard bobbing up on their own inside 50 as if by magic. If it wasn't for Supercoach, I wouldn't know how it is that Collingwood has gotten away with a two-tall-back system for so long, why Nick Maxwell actually is a very good player, how much the Pies still miss Leon Davis, and how his absence has affected the play of Heath Shaw and by extension the whole Collingwood team. If it wasn't for Ultimate Footy, I wouldn't have figured out why it is that Brisbane hasn't taken that next step yet despite obvious talent, and how dangerous they will be when they find another Bloke Who Will Carve You Up If You Don't Tag Him to add to Pearce Hanley and Daniel Rich. If it wasn't for all of these silly games, I wouldn't understand how the main game works, and I might get discouraged if all my fandom had to feed off was mercantile individuals who might be playing for the enemy next season.
The more analysis I do of Australian football, the more I love the game and my team's role in it. Maybe if I supported the Bulldogs or Saints I wouldn't take as much enjoyment out of it – and heaven help those Don fans – but that's who I am.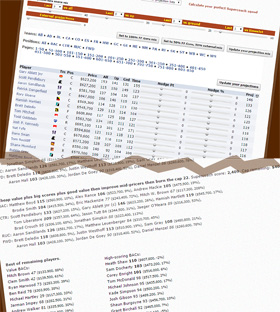 In a first for Australian fantasy, FanFooty is launching a new Projections tool for not only creating your own weekly fantasy point predictions based on historical stats and consensus rankings, but a function to auto-generate an optimised "perfect" lineup for use in weekly and daily fantasy sports!
These are the sort of tools that pros use in American DFS to construct their lineups, and with the rise of DFS in Australia in 2016 FanFooty Projections will become indispensible to the hardcore and the casual fantasy coach! (Note: this feature will become part of this year's FF Premium product later this year, but for now it's free.)
FF Projections & lineup optimiser
Facebook