News Ltd wins: Dream Team versus Super Coach
News Limited's Super Coach competition looks to have locked in #1 spot in fantasy coaches' hearts.
One of the big industry questions in Australian fantasy football this off season was whether the Super Coach competition's victory over the official AFL Dream Team competition in 2008 would continue on into the future. The extenuating circumstance surrounding an unprecedented drop in Dream Team registrations, due to an extremely late opening of the competition, was most definitely not on the case this year, with the AFL pumping up the competition not only through its own Web site in just about every article, but also on radio SEN to an almost nauseating level, and even the odd television commercial as part of their contra agreement with the official broadcasters Seven and Ten. For its part, the Herald-Sun and all the other News Limited newspapers, united under a single Super Coach competition this year after being separated into smaller competitions for each city in previous years, was also producing plenty of fantasy content to support its product, including its new Little Black Book, Kevin Sheedy in a superhero suit, and a comprehensive two-page wrap just before the season started of hot fantasy players. All was in readiness for the start of the season to see which competition fantasy coaches liked more.
The results are in: Dream Team 216,437; Super Coach 281,652. News Limited wins in a landslide.
I have been tracking the registration numbers for the various competitions for a while now, so I can project this graph, based on estimates of how the round 22 registrations will look compared to round 1.
There are a number of points that can be drawn from this. First is that the AFL not having a major media partner – SEN, while strategically important for a large number of reasons, is nowhere near the top of the radio ratings – is hurting their product. SEN's audience, judging from their advertising, is working men who have the radio on while they work on building sites or cars… not the sort of demographic to which fantasy footy appeals.
The other big point is that is is criminal that Fairfax have not re-entered the fantasy frame with their own product. Their readers have shown from their first foray into the market in the mid-90s that they are willing to play. Fairfax have 3AW, the AM ratings leader and top football calling station in the land, just sitting there ready to be used as part of a concerted marketing campaign. The Age is getting hammered by the Hun on all fronts, yet in this battle they have no soldiers at all.
But what about you guys, the fantasy coaches? I've read countless forum threads devoted to debating the merits of the two scoring systems. Is this inexorable rise to ascendancy by Super Coach an endorsement of the Champion Data ranking points as a fantasy staple – late-game swings and normalisation included – or are the external factors like DT's failure last year more of a reason? Is it just because the readership of News Ltd newspapers is much larger than afl.com.au's vistors and SEN's listenership put together? Tell me why you think Super Coach has run down Dream Team in the comments.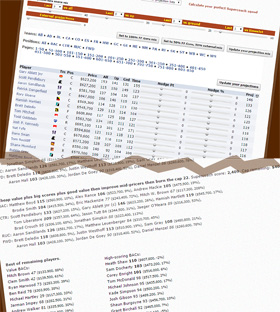 In a first for Australian fantasy, FanFooty is launching a new Projections tool for not only creating your own weekly fantasy point predictions based on historical stats and consensus rankings, but a function to auto-generate an optimised "perfect" lineup for use in weekly and daily fantasy sports!
These are the sort of tools that pros use in American DFS to construct their lineups, and with the rise of DFS in Australia in 2016 FanFooty Projections will become indispensible to the hardcore and the casual fantasy coach! (Note: this feature will become part of this year's FF Premium product later this year, but for now it's free.)
FF Projections & lineup optimiser
Facebook