Fantasy media melee: News leaks AFLPA Dream Team document
The Australian newspaper has leaked a sensitive AFLPA document drawing the battle lines over fantasy footy.
The story Rivals scramble for fantasy football dollars by Simon Canning in the business section of Monday's Australian newspaper is the first mainstream media article in what I suspect to be a long line detailing the squabbling by a large number of parties over the increasing profits to be made in fantasy football. Canning's scoop is a document sent by the AFL Players Association to the 16 players in the Dream Team Player League, which contains some of the biggest names in the game. In addition to the figure of $1500 that is being paid to each player to spruik for Dream Team in interviews – such as Luke Hodge on the DT Talk podcast – the letter lets slip the concerns that the association and others have over the rise of Super Coach past the official DT competition in registrations, as I blogged about recently.
Let's take a step back here. What are we fighting over? There are a large number of stakeholders in this battle and they each have their own agendas.
• The AFL holds all of the copyrights, but it appears not to be involving itself in public at this stage.
• The AFLPA wants to get a cut from fantasy footy for use of players' intellectual property.
• News Limited is only interested in newspaper circulation and page views, beating the absent Fairfax over the head in the marketplace.
• VirtualSports (aka VaporMedia) operates both the DT and SC competitions, so it's a Swiss banker as far as taking sides are concerned.
• Champion Data provides its specially formulated ranking points to News as their Super Coach scores, but is part owned by the AFL.
• Telstra pays the AFL $12 million per year for rights to exclusive Internet content, in the third year of a five year deal.
• FanFooty (and its brethren) is interested in providing live stats for both DT and SC to enhance fans' enjoyment of fantasy football.
• Last but not least the fans, who are angry that they can't get live scoring for Super Coach for reasons they don't understand.
As you can see, we have some parties at loggerheads here. The AFLPA wants to push Dream Team because it gets no cut from Super Coach. Champion and VS get a cut from both, and are interested in both becoming bigger. Telstra is even more annoyed at News than the AFLPA because News is agitating to be given live online scoring on Superfooty, which cuts into their online turf for which they are paying top dollar. Champion Data has been instructed to restrict the flow of Super Coach scores to News, though the source of that decision is uncertain… with News firmly pointing the bone at Telstra.
News loves to push its corporate agenda through the Australian newspaper, and this article is no different. Their long-term aim is clearly to unseat Telstra from its exclusivity in the next Internet rights deal, which won't start until 2012. Fantasy football has kind of come underneath the radar for the AFL's Internet rights policy, and their failure to account for the rise of newspapers wanting their own online properties to benefit from fans' insatiable demand for fantasy footy products is at the heart of this dispute. At the time of the last deal's negotiation in 2006, Super Coach was only in its first year and lagging well behind the official Dream Team competition in registrations. Sportswear deals on Rebel Sport Catalogue.
The AFL should have foreseen, if it had done a skerrick of research, that the Australian industry was developing along British lines, not American ones. English newspapers dominate the industry with huge salary cap competitions surrounding the English Premier League. AFL Dream Team is a salary cap competition, well suited to newspapers (and mainstream media Web sites) who crave competitions with rules allowing mass entry and low barrier to enjoyment. Private draft leagues, the hallmark of the US industry, have never taken off here, with the AFL's own Premium Dream Team private draft league product still in limbo this year after round 3, and not looking like launching with any kind of fanfare in 2009, if at all.
Some of the claims in the article, like the one that Super Coach is "like having a major natural disaster on the front page every Monday and Friday", are perhaps a bit overblown, but that's the way that News plays it. This is a story we'll hear more and more about during the current AFL internet rights contract. The AFL is now in the invidious position of having got both News and Telstra riled up on this issue. It is a rod for their back of their own making.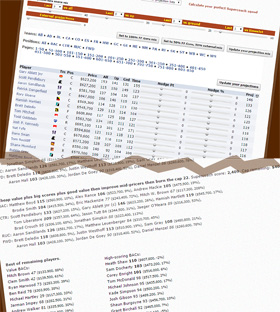 In a first for Australian fantasy, FanFooty is launching a new Projections tool for not only creating your own weekly fantasy point predictions based on historical stats and consensus rankings, but a function to auto-generate an optimised "perfect" lineup for use in weekly and daily fantasy sports!
These are the sort of tools that pros use in American DFS to construct their lineups, and with the rise of DFS in Australia in 2016 FanFooty Projections will become indispensible to the hardcore and the casual fantasy coach! (Note: this feature will become part of this year's FF Premium product later this year, but for now it's free.)
FF Projections & lineup optimiser
Facebook