AFL substitutes to be trialled in 2009 NAB Cup
Tucked away among today's announcements of a raft of changes to the AFL Laws of the Game was a little trial of a new type of position for Australian football: the substitute. While others can debate over rushed behinds and extra boundary umpires, fantasy coaches' ears should be pricking up at this news that could have a significant impact on fantasy football in years to come.
The NAB Cup teams in 2009, which already have benches expanded to six players, will now also have two substitutes, who are a new kind of interchange player whose replacement can not be brought back onto the ground after they are interchanged with the substitute. This is an idea that has been floating around for years, and arose a number of times this year with several teams suffering terrible in-game injury losses, such as Adelaide in the first Showdown of the year, and Hawthorn in the grand final. In the modern game, the thought of having bench rotations down to one or none gives coaches the heebie-jeebies, severely limiting their midfielders from their increasingly burst-driven aerobic recovery patterns. Several high-profile coaches spoke out on the issue during the year, not just when their own teams were the victims. The Laws of the Game Committee is obviously testing the waters with a view to introducing the rule in the regular season.
Importantly, there are no restrictions on how a club may choose to make these substitutions. For a rule which was brought about largely due to concerns about teams being decimated by injury, one might have thought that a clause about requiring a doctor's approval that a player could not physically continue without endangering themselves might have been instituted, to prevent exploitation by unscrupulous coaches, but no such caveat has been put in place.
For fantasy coaches, this would be yet another step towards diluting the effectiveness of gun players. With players like Dane Swan already having their time on ground (TOG) regularly curtailed to 75% or lower by coaches who want players built for bursts of speed rather than tough endurance, this rule would only encourage further rotations, by enabling the use of specialist "half-game" players. These fringe players would go into a match expecting to only get half a game's worth of action, run themselves ragged, only to be substituted at the main break for their other half-gamer despite being perfectly fit (if a little winded!). It might mean that draftees are put into the seniors earlier, but could you play them in your 22 if they are only named as a substitute? Tough choice. Similarly, if they are named for early games and then substituted early when they inevitably get puffed out, suddenly your lovely new rookie is removed from the field of battle before posting a solid score, which would be very frustrating. Certain coaches would exploit this rule more than others, of course, perhaps ruling out entire teams for cash cow potential.
If this rule were to become a part of the AFL, we could see the rise of what is called in soccer a "super-sub", a player who specialises in being brought on for the last quarter of a match to turn it with some mercurial attacking abilities. Think of Ole Gunnar Solskjaer, who scored the winning goal coming off the bench in the 1999 UEFA Champions League final for Manchester United. A player like Stuart Dew could make a fine living for himself in that role, and he wouldn't even need to be particularly fit! For fantasy coaches, however, this would be a poor outcome because they couldn't start a substitute under normal circumstances, and the super subs would just be pinching points off the forwards they were hoping would score for them.
I think this is a rule whose time has come, in a league more and more concerned with occupational health and safety, and with a seemingly inexhaustible desire to speed up the game. It's not quite all the way to the NFL model, where fully 45 of a team's 53-man roster is eligible to play at any time during the game each week, but it's a step along that path. How about you, if this comes in for home and away matches what sort of effect do you think it would have? Am I being too cynical? Tell me in the comments.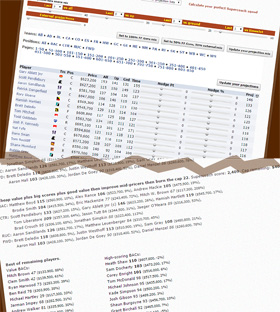 In a first for Australian fantasy, FanFooty is launching a new Projections tool for not only creating your own weekly fantasy point predictions based on historical stats and consensus rankings, but a function to auto-generate an optimised "perfect" lineup for use in weekly and daily fantasy sports!
These are the sort of tools that pros use in American DFS to construct their lineups, and with the rise of DFS in Australia in 2016 FanFooty Projections will become indispensible to the hardcore and the casual fantasy coach! (Note: this feature will become part of this year's FF Premium product later this year, but for now it's free.)
FF Projections & lineup optimiser
Facebook