11 challenges: 2011 fantasy options
VirtualSports' Peter Jankulovski has kicked off speculation among fans as to how to deal with the bye and the new GC17 team in the 2011 AFL Dream Team and Supercoach competitions.
I attended the Digital Sports Summit at the MCG yesterday with Peter, who as MD of VirtualSports is the architect and manager of both the AFL Dream Team and Supercoach competitions. He gave a speech to about 150 industry colleagues from a variety of sports working in digital content production, including a large number of AFL club and league representatives. After the speech, which dealt largely with industry issues not relevant to this blog (apart from a screenshot or two of FanFooty and DT Talk!), makingmemark from the BigFooty forum asked him for his initial thoughts on how the DT and SC competitions would change next year to take into account the introduction of GC17 and the byes in the extended season that this would necessitate. As Mark reported over in the BF thread, the two takeaway quotes were that he was inclined to do less rather than more, and that his more likely options were to increase the amount of trades and/or bench players.
I talked with Peter at the event about various things, including this issue. I'm still trying to get him on the Coaches Box to talk about it in more detail, which may happen before the end of the season. This issue has already been discussed on fan boards, including threads on the FanFooty forums. Without breaking confidences, I thought the best way to handle it prior to Peter speaking about it in public would be to hand the discussion over to you guys. I have created a new board on the FF forum called 2011 fantasy rules, which will carry guided discussion of the various options that are some chance of getting up.
On that last point, there are some things that fans have been asking for that won't appear in the list of options. First of these is my own hobby horse of introducing unlimited trades, which at this stage is too radical to even be discussed. Oh well. Another one that has had a lot of fan support is the idea of giving a player on bye a phantom score based on their rolling average, which I am relieved to report is not on the agenda either. Finally, though it would be a good idea to increase the multi-positional player eligibility, unfortunately VirtualSports are locked into the Champion Data player designations, so that's not going to be changed unless Champion have a change of heart (unlikely!).
The polls – which, I should stress, are not official or endorsed by VirtualSports in any way – at this stage are as follows:
Spread of starting positions
– 7-6-2-7
– 6-8-2-6
Spread of bench positions
– 2-2-2-2
– 3-3-3-3
– 4-4-2-4
Pricing of mature-aged draftees
– Leave them as rookie-priced
– Price them on their lower league stats with a discount
– Give them a price premium based on age
Pricing of GC17 and GWS draftees
– Keep their pricing in line with other draftees
– Give all new GC17/GWS draftees a price premium
Number of trades
– 20, two per week
– 30, two per week
– 20 plus extra allowed for a point penalty, two per week
– One free trade per week (max 24) plus six "wildcard" trades, up to seven per week
I look forward to hearing what the FF community thinks about these issues. The DT and SC games have been changing on the field, if not in the rules, for the last few years with teams being "finished" as early as round 10 this year. Something has to give next year. Or does it? Maybe you lot will want no changes at all. Fire away!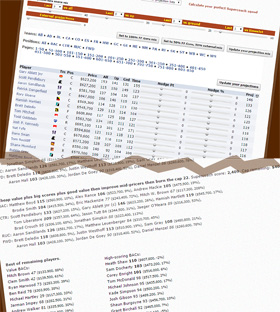 In a first for Australian fantasy, FanFooty is launching a new Projections tool for not only creating your own weekly fantasy point predictions based on historical stats and consensus rankings, but a function to auto-generate an optimised "perfect" lineup for use in weekly and daily fantasy sports!
These are the sort of tools that pros use in American DFS to construct their lineups, and with the rise of DFS in Australia in 2016 FanFooty Projections will become indispensible to the hardcore and the casual fantasy coach! (Note: this feature will become part of this year's FF Premium product later this year, but for now it's free.)
FF Projections & lineup optimiser
Facebook