Full AFL depth charts
After asking for comments on the concept of AFL depth charts in my last post, I decided to go ahead and construct charts for each AFL team. With the help of posters at BigFooty in a thread on the subject, I think the charts are fairly accurate now for most teams.
Adelaide depth chart
Brisbane depth chart
Carlton depth chart
Collingwood depth chart
Essendon depth chart
Fremantle depth chart
Geelong depth chart
Hawthorn depth chart
Kangaroos depth chart
Melbourne depth chart
Port Adelaide depth chart
Richmond depth chart
Sydney depth chart
St Kilda depth chart
Western Bulldogs depth chart
West Coast depth chart
One of the benefits of these charts is that at a glance, you can tell where certain teams are short of a few good players. Carlton is lacking at least one good small forward, for instance, as they have little after Eddie Betts. Adelaide doesn't have much in the small forwards past Jason Porplyzia and Bernie Vince – indicating some of the reason why those two players had such good years. Adelaide also just opened up a hole in their backline with the retirement of Nathan Bassett and the delisting of Kris Massie, which if assistant coach John Reid was to believed on 5AA this week, will be filled by youth in the form of Greg Gallman, Aaron Kite and maybe Myke Cook. These are the sort of positional battles that the depth chart is made for.
At this point of the season, teams are clearing out dead wood from their lists in preparation for the drafts. This means that it's instructional to look at all teams to see which "holes" in their depth charts need to be filled with draftees, rookies and recycled players with a view to picking them up for your fantasy teams next year. Here's a short list of these:
– Collingwood outside mids, though Leon Davis and Alan Didak are pushing up a lot more these days to offset that
– Freo small forwards AND outside mids, and possibly inside mids… with all of their retirements and delistings, the Dockers are going to be one of the main players in the draft and will probably provide a fair few fantasy bench positions next season
– Kangaroo outside mids… Ben Ross impressed late this year and could be leaned on a lot in 09… unfortunately his price takes away a lot of his glamour
– Demons rucks… the Mark Jamar/Paul Johnson TOG split is not yet set
– Richmond forwards… Matthew Richardson might have given the Chas a shake with his excellent year but he broke down late on with stress-related problems so he might have to be anchored inside the 50 again this year to bolster what still looks to me like an undersized and underpowered attack
– Saints small forwards… Matthew Ferguson is the next big thing but can he get on the park?
– Bulldogs outside mids… Nathan Eagleton showed definite signs of slowing down late in the year and with no Farren Ray there's a hole to be filled by some kids coming through
– West Coast small forwards… David Wirrpanda was a stopgap this year, Mark LeCras is often injured and they need a Cyril Rioli type.
Can you see any other weaknesses that teams need to shore up? Let us know in the comments.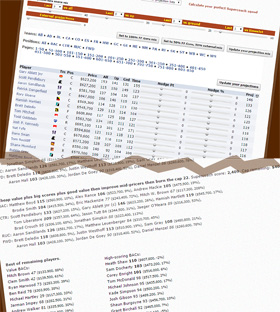 In a first for Australian fantasy, FanFooty is launching a new Projections tool for not only creating your own weekly fantasy point predictions based on historical stats and consensus rankings, but a function to auto-generate an optimised "perfect" lineup for use in weekly and daily fantasy sports!
These are the sort of tools that pros use in American DFS to construct their lineups, and with the rise of DFS in Australia in 2016 FanFooty Projections will become indispensible to the hardcore and the casual fantasy coach! (Note: this feature will become part of this year's FF Premium product later this year, but for now it's free.)
FF Projections & lineup optimiser
Facebook