Setanta stole the headlines, but there was plenty of fantasy-relevant action in weekend trial games.
I suppose we should start with Carlton, since their intra-club game last Friday was the one everyone was talking about.
• Hidden behind the Setanta O'hAilpin furore was a scintillating performance by Mitch Robinson. The #40 draft pick played as a leading forward and kicked a bag of goals to impress most watchers, especially in the period where he was given a spell on the ball where his disposal skills were equally pleasing. If he's named for round 1 then he will be mightily popular given that his game is on the opening Thursday, so he would likely to be only one of two 2008 draftees to be definitively named in his team's 22 before the 160 minutes of maelstrom starts – Chris Yarran being the other, with the Tigers virtually no chance of doing the same. One might under normal circumstances worry about Robinson fighting with Yarran for one spot, especially since Yarran was in Darwin for the All-Stars game where he barely got on the field, but given the almost complete lack of Blue small forwards beyond Eddie Betts, I think there's enough room for both Robinson and Yarran in the Carlton team for round 1.
• In the ruck, where Carlton is making noises about Robert Warnock aiming for round 1 that sound desperate to me, Shaun Hampson confirmed his place in the depth chart above Sam Jacobs, with Matthew Kreuzer looking very much like he'll be played forward.
• Notably, Jarrad Waite played CHF for one of the teams but was beaten by Paul Bower, underlining Bower's aspirations as third tall defender – though the other contender, Bret Thornton, had Brendon Fevola to deal with and restricted him to one goal.
• With Andrew Carrazzo's elbow injury it would have been nice to hear about Chris A. Johnson in this game, but unfortunately he was rested.
• Other names to crop up in the Blues reports were Bryce Gibbs and Marc Murphy – no surprises there – and Shaun Grigg, who isn't fantasy-relevant.
The other major news story from intra-club matches came from Essendon with Andrew Welsh's leg injury. the fan reports listed a lot of players missing from the game, including Ricky Dyson (soreness), Sam Lonergan (illness), Alwyn Davey, Michael Hurley (gall bladder), Leroy Jetta, Tayte Pears and Brent Stanton (quad).
• Of those who did front up, it was good to hear that Scott Gumbleton performed adequately, especially with one long goal from 50, firming his odds as a forward bench rookie in Dream Teams across the nation.
• Bachar Houli is now an important player due to his back eligibility, so it was also pleasing that he was used through the middle and improved his disposal quality towards the end of the match. I have always considered him as a Super Coach specialist myself, though I wouldn't be surprised to see him in a lot of Dream Teams this year.
• The reviews of Scott Lucas' game sounded a bit hesitant from the fans, almost as if they were willing him to play better than he did. There's no denying that it was a good sign that he kicked a couple of goals and got through the session unscathed, nonetheless.
• The word on Hayden Skipworth was more glowing, before he suffered a mild concussion in the second quarter. If he's named for round 1 then his price is going to tempt a lot of fantasy coaches, especially if he has a good game or two in the NAB.
• It was interesting that Adam McPhee was used both back and forward, echoing his own quotes in the media recently on him being used wherever the coach wanted him. It seems McPhee will be used a bit like a Luke McPharlin, Adam Hunter or Jarryd Roughead type, the switch hitter who is swung into action wherever the team's structure is weakest.
• Jason Winderlich also drew the superlatives for his performance but, like Christian Bock, I would tend to discount such praise from a practice match since both players' main problem for this year is going to be surviving body-on-body contests, of which there are few in such games.
And yes, there were some other clubs who played scratchies! Fremantle, for example, who played theirs on February 2 between the greens and whites. The game had three quarters… if only that were true last year in the home & away, Freo would have made the finals! 😉
• Paul Hasleby was played as a half back and got a fair bit of the pill. Please, don't get too excited, people. Fremantle is blessed with an over-abundance of skinny half backs as it is, they don't need to convert one of their in-and-under players, of which they have so few, into a rebounder when he is already struggling with recovery from groin problems. What it does show is that he will be able to add an outside game to his inside game, if his fitness holds up, making him a solid choice as this year's Nick Stevens as the most popular mid-price midfielder.
• Matthew Pavlich, coming off late-season knee problems and a slow preseason, played half the game in the middle and half in the forward line. I suspect that his troublesome knee is going to restrict him from playing the full Richo role, and Freo would be better off with him in the forward 50 anyway.
• Adam Campbell injured a knee ligament.
• The AAP report was full of praise for Stephen Hill, talking him up for a round 1 start. It's an easy story to write, as coach Mark Harvey was criticised last year for not starting draftees in round 1 and he succumbed in round 2. This will probably be a story that will gain momentum, especially if Hill performs even moderately well against Richmond in the first NAB game. The fact remains that Hill's body is not ready for senior AFL, though, and Harvey won't want to risk him getting injured so early in what the club would expect would be a 10-year career.
• The form of Clancee Pearce, however, is more promising. Fremantle have two spots available to promote rookies from round 1 due to having no veterans, and (one would imagine) plenty of cap room to pay those rookies due to the exodus of senior players last season. There was a bit of confusion over jumper numbers between Pearce and Greg Broughton, so it's not clear how much praise is due to either kid, though apparently both played well.
• The fact that both Pearce and Broughton were mentioned favourably more than Nick Suban, who is now a firm fantasy favourite, is worrying for all of us who have bought him. This is a situation every fantasy coach needs to keep a close eye on.
Much skulduggery surrounds match reports from the unannounced Hawthorn intra-club on February 9th. The Hawks are insanely protective of any reportage on their training sessions and particularly scratch matches, to the extent where they have leaned on the regular posters to BigFooty and HawkHeadquarters to restrict access to any reports they may post to private boards filled with Hawk faithful, with leaks swiftly hunted down. Despite this, some small details have been posted in public.
• Lance Franklin played, mostly in defence. Franklin has been prominent in most training reports (understandably, as most eyes would be on him) as participating in running drills with excellent results, but this is the first time we have heard of him being involved in contact work. Much of his time has evidently been spent on his kicking.
• Luke Hodge, Xavier Ellis, Trent Croad and Jordan Lewis all missed the game – nothing surprising there given their well-publicised injuries, though I had held out hope that Lewis might have been far enough ahead in his recovery that he might have suited up.
• Robert Campbell did not play due to the hand/wrist injuries that continue to curtail his preseason.
The North Melbourne scratchie was indeed scratchy, with swirling winds reducing the effectiveness of the typical Kangaroo long balls and making the game very tough for forwards.
• Michael Firrito played between the arcs, kicking a goal and racking up touches without an opponent. Daniel Wells didn't have an opponent either, playing on the opposite side… maybe they were supposed to be on each other?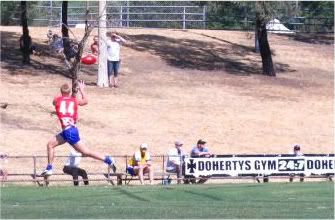 • Liam Anthony was probably the story of the game from a fantasy viewpoint. With Jack Ziebell not rating much of a mention, Anthony's work in the midfield of the dominant Red team was a stronger indicator.
• Jesse W. Smith was quiet, though he was singled out for praise by coach Dean Laidley today on radio SEN. My feeling is that, given Laidley's history, coach favouritism is perhaps even more important than onfield form at this stage for the Kangaroos.
• The suspended Aaron Edwards kicked four goals to be the best forward by far. He will have a point to prove once he comes back, though it would be a brave coach who trades a forward rookie to him by the time he reaches the bubble (after round 6) in the hope that he gets anywhere near keeper status.
• With Edwards on the Red team, Lachie Hansen was tried at CHF for the Blue team matched up on Nathan Grima, with no return. I wouldn't be touching him, even if he is installed at CHF for the seniors in those four weeks that the team will be without Edwards.
Over at Punt Road, Richmond has been having some match simulation at recent sessions.
• Not much can be gleaned from these sessions as they have been rather loose, from the sounds of it, but it is interesting that Joel Bowden has been playing in defence in the simulations even though he has been training with the forward group. As the most expensive fantasy back in the comp, most coaches have been staying away from Bowden due to a lack of upside, even if they haven't heard of his impending shift to become a forward. A permanent move to the forward line may actually help his Super Coach stats if he manages a healthy goal-per-game rate. If he starts switching between ends more, a la McPhee, his fantasy scores may look more patchy, however.
• In the match simulations it is also instructive to see which rookies have been participating: Andrew Browne the 204cm ruckman; David Gourdis, who the match committee loves for some reason obviously unrelated to his skill and ability; Jarrod Silvester the 24-year-old key defender; and Robin Nahas, who is an interesting prospect as a small forward. Nahas is obviously the most important of these four for fantasy coaches. Unfortunately the Tigers can't bring in any of these kids without an LTI until round 11 due to having two veterans, unless they make the decision on Graham Polak.
• As has been reported elsewhere, Mark Coughlan has suffered a setback with his knee. Doesn't sound good, folks.
• Troy Simmonds has had to wear a support bandage on his knee through the preseason. Just saying.
Over at Moorabbin, for just about the last time, the Saints had their intra-club, with media reports mostly concentrating on Matt Maguire getting through without incident. The Black team was stacked with senior players and duly dominated the game over the Whites (sounds familiar from that weekend! ;)).
• Jason Gram tweaked a hamstring and didn't appear after quarter time.
• Sam Gilbert played forward and kicked three goals, which is an interesting move. With the delisting of Charlie Gardiner last year and the long-term injury to Jarryd Allen, the third tall spot in the Saints forward line is still very much up for grabs. The other main hope for that spot may be Tom Lynch, who would be more valuable from a fantasy perspective, with Jason Blake rotating through.
• Farren Ray attracted critiques from all ends of the spectrum. Consensus seems to be that he got a lot of the ball, but his disposal efficiency seems to be under question. You know what that means: consider him for DT, but not for SC.
• Nick Heyne drew more praise but, like Gilbert, may have flattered to deceive due to being in the stacked Black team.
• Jarryn Geary, who is shaping up as a smokie judging from his popularity, didn't have much of a game.
• Brendon Goddard looks to have slimmed down significantly, suggesting a body that has been tapered to handle more gut-running in the midfield.
Further intra-club matches are scheduled for Geelong and West Coast on Friday and Melbourne on Saturday, with the Bulldogs having one on the 20th.