During every fantasy footy season, one thing becomes apparent. Countless fans drop off midway through the season.
This is due to several reasons; mounting injuries that derail seasons, time constraints or players simply losing interests due to the season long commitment required.
But daily fantasy platform, Draftstars, requires minimal effort, for far higher reward.
In Draftstars, you only have to pick a hand full of players in your side each week and contestants can win real cash prizes every single week, with over $100k in cash won each week on the platform.
To sign up for Draftstars, players can either deposit funds (as little as $10) or play for free.
Contestants can choose to play games with a salary or salary cap free contests, called Turbo contests and contests can either be single games or span across multiple games.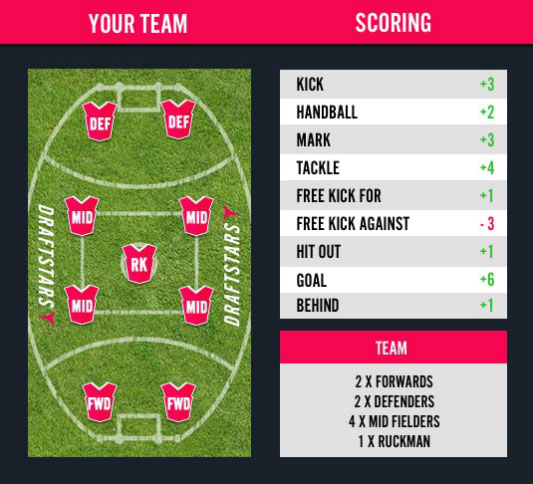 The next step is drafting your side. Don't worry about spending hours on end selecting a squad of 30 players, all you need to do is select either nine players (salary) or six players (turbo) to play a match.
Draftstars' scoring system is exactly the same as AFL Fantasy, as outlined above.
Results are easy to track and you can watch your scores live, as well as keep track of much money you are set to win.
If you love playing fantasy and are keen to try something new, sign up for Draftstars and get started.
Remember, all participants must be 18+ years of age, must be a resident of Australia or New Zealand.