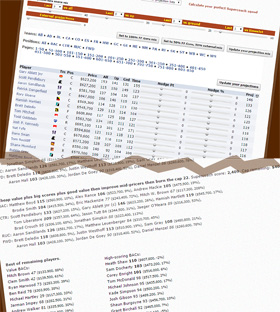 In a first for Australian fantasy, FanFooty is launching a new Projections tool for not only creating your own weekly fantasy point predictions based on historical stats and consensus rankings, but a function to auto-generate an optimised "perfect" lineup for use in weekly and daily fantasy sports!
These are the sort of tools that pros use in American DFS to construct their lineups, and with the rise of DFS in Australia in 2016 FanFooty Projections will become indispensible to the hardcore and the casual fantasy coach! (Note: this feature will become part of this year's FF Premium product later this year, but for now it's free.)
FF Projections & lineup optimiser
FanSports Network
Starting with FanFooty in 2004, there are now five sites in the FanSports network, providing live scores and chat during games, forums with 10,000+ members, reams of historical statistics, constantly updated news and a raft of unique fantasy tools: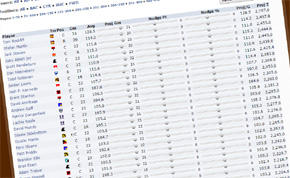 FanFooty brings you a new tool called FanDex, for creating and maintaining customised player rankings for your fantasy drafts. Default rankings are based on previous (non-vest) fantasy scores by each player, but you can "nudge" those averages up or down by moving sliders to increase what you think they will average in the upcoming season, either by points or by percentage, or both.
In future, you will be able to export your rankings to formats accepted by major draft fantasy operators. Look out for a daily fantasy (DFS) version coming soon, where you can import your previous nudges from day to day or week to week.
FanDex draft rankings tool
Fan Tools

Check out an arsenal of advanced tools. Use the Boys on the Bubble DT/SC for players about to change in price. Ride the Rollercoaster DT/SC for price trends. Try the Breakdown DT/SC for club-vs-position histories. The Tribunal page lists players with points and/or loading from charges. See who's hot in public Dream Teams and DT/SC popularity lists.
Fantasy resources
Players: Player search • Depth charts • DT Popularity • Top scorers • Records
News: All

Hot

Cold

Healthy

Sore

Injured

LTI
Research: Enter External Team • Dream Teams • Breakdown: DT • SC
Game: Archive • Latest Teamsheets • Ladder • Goalkicking
Reference: A short history of fantasy AFL football • Fantasy footy glossary

The Mr Football fantasy management simulation is being developed by m0nty, and is currently in beta testing mode. Make your team and check out the latest rules document on the Mr Football board.

Who will be the greatest fantasy footballer of 2016? FanFooty Superstar is our homegrown comp, with 5-4-3-2-1 votes based on the player icons on the live FanFooty game pages like stars, guns, fireballs and bins. 2009 was the year of Leigh Montagna, in 2010 Dane Swan led from post to post, in 2014 Joel Selwood just pipped Rory Sloane, and in 2015 it was Todd Goldstein
holding out Josh P. Kennedy… who will be next?