FanFooty Premium: advanced fantasy footy
FanFooty is launching an advanced fantasy service called FanFooty Premium. The main launch feature is a live news service called Insights which already includes over 1,000 individual player snippets from 2015, which are all archived and searchable by icon, keyword, club or fantasy status. You might be familiar with this sort of service from other providers in the AFL, but Insights has double the amount of news items so far in 2015, and covers a far greater range of players, not just the popular ones.
Premium users will also enjoy an enhanced matchday experience with an ad-free matchcentre page which has no five-minute refresh, plus a coloured name in chat. Not just purple… you'll be able to choose your own colour! Team icons will remain a special occasion for everyone in the second half of the last game of each round.
Early Premium users will be able to lock in the low launch price of $9.95 (annual) as further features are added in subsequent updates. While the initial launch of Premium is mostly about the journalistic content in Insights, which is similar to Rotoworld or Rotowire for American fantasy sports, further updates will be mostly focused on tools for deeper analysis, particularly for use in the increasingly popular draft league formats, like cheat sheets and customisable draft kits which can be exported to any draft league.
To sign up, use this link:
Please note: click on the link to come back to the site once you've made your payment so that your account can be automatically updated to reflect your new membership status, and you get access to the new content. The Premium status attaches to your login on the main site, NOT your forums login – this is the login that your see in the black bar at the top of each page. It would be advantageous if you were logged in before you bought the product to make the process seamless – otherwise you will have to wait for me (m0nty) to update your account manually.
You will be brought back to this page if you try to access Premium content without being logged in to an account with the Premium membership.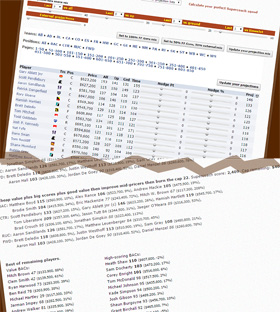 In a first for Australian fantasy, FanFooty is launching a new Projections tool for not only creating your own weekly fantasy point predictions based on historical stats and consensus rankings, but a function to auto-generate an optimised "perfect" lineup for use in weekly and daily fantasy sports!
These are the sort of tools that pros use in American DFS to construct their lineups, and with the rise of DFS in Australia in 2016 FanFooty Projections will become indispensible to the hardcore and the casual fantasy coach! (Note: this feature will become part of this year's FF Premium product later this year, but for now it's free.)
FF Projections & lineup optimiser
Facebook